CLASSES ON AKAN CULTURE & SPIRITUALITY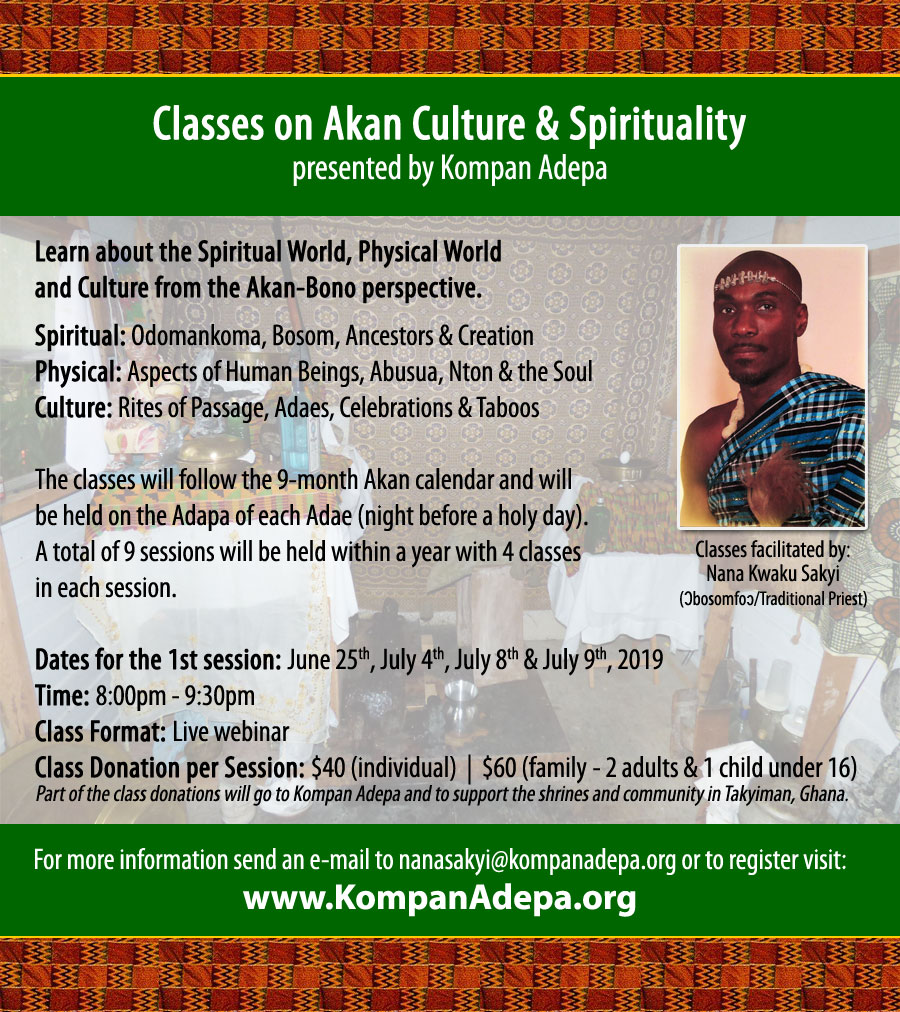 Learn about the Spiritual World, Physical World and Culture from the Akan-Bono perspective.
Spiritual: Odomankoma, Bosom, Ancestors & Creation
Physical: Aspects of Human Beings, Abusua, Nton & the Soul
Culture: Rites of Passage, Adaes, Celebrations & Taboos
The classes will follow the 9-month Akan calendar and will be held on the Adapa of each Adae (night before a holy day).
Dates for the 4th session (2020): March 4th, March 13th, March 16th and March 18th
Time: 8:00pm – 9:30pm
Class Format: Live webinar
Class Donation per Session:
(Part of the class donations will go to Kompan Adepa and to support the shrines and community in Takyiman, Ghana.)
Contact us for questions or more information.
Our African Traditions Video
Our African Traditions Conference
Stream Online, Digital Download or DVD Set Available
Keynote Presentation by: Dr. Charles S. Finch, III
Featuring: Nana Kwaku Sakyi (Ɔbosomfoɔ/Traditional Priest) and Nana Kwesi Odaaku (Ɔkyeame, Amanmere Ɔpanyin/Cultural Elder)
Join Our Mailing List
Sign up today and receive up-to-date information about our programs, initiatives and events.